About Fixed Rate Mortgage
At Nebraska Energy Federal Credit Union we work with many electrical power industry employees and their families. We want what's best for our members, and that is why we provide a variety of fixed-rate mortgage loan options.  These fixed-rate mortgage loans are available on the Secondary Market. What this means to you:
15, 20, 30 year term loans available on Secondary  market.
Mortgage lending area: Nebraska, Missouri, Colorado, South Dakota.
Nebraska Energy Federal Credit Union retains the servicing of these loans.
Origination fee applies.
Appraisal required.
Interest rate and monthly payment is set for the life of the loan.
Subject to credit approval.
For rates and terms, give us a call today at 800-453-3913.

Notice to mortgage loan borrowers: If you feel there has been an error in the servicing for your mortgage loan with Nebraska Energy Federal Credit Union or if you would like information concerning your mortgage loan, please send a written request to:
 
Nebraska Energy Federal Credit Union
Mortgage Department
P.O. Box 499
Columbus, NE 68602-0499
Your request must contain a) Borrower's name, b) Identification of your loan such as loan number, and c) Information on the error that is believed to have occurred or a description of the information requested.  You will receive a response within 5 business days.  Thank you.
---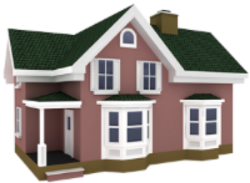 Buying a Home
We know that buying a home is a major deal. It can easily become overwhelming, but we've got the team to help you get through it. Let our experts sort through the stacks of information to provide you with the best solution for your financial situation.
Want to learn more about home buying? Get started by visiting our Home Center.